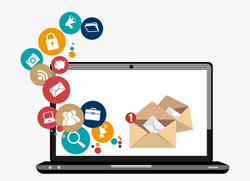 We have the best of intentions to follow-up on interest in our business. As well we should, because the fortune we want to make is in the follow-up.
The people we meet when we're out networking, speaking or who are referred to us represent thousands, tens of thousands, maybe even hundreds of thousands of dollars in revenue for our business.
Our "best intentions" to follow-up are great, but intentions alone seldom create results.
ACTION gets you results.
The first action you want to take with a new prospect is to welcome them into your community. You can do this by introducing them to your company, the solutions you offer and inviting them to share a bit of detail about what they're looking for.
Your next step is to use the information you've gathered to nurture them through your sales process.
And you'll continue nurturing them along until they:
Purchase from you, or…
Leave your community
Sounds simple, right?
But how can you do this when you're short on time and have dozens, or perhaps hundreds of people to keep up with?
It's simple. You set up automated messages (aka "autoresponders") to do the work for you.
An autoresponder series is a set of email messages you write once, and set up to send automatically to a new prospect when they join your community.
Here's an example of how this works:   [Read more…]