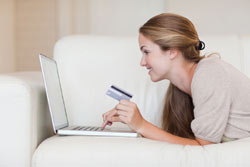 There's nothing small about the revenue potential of year-end (or holiday) season when it comes to small businesses.
It's the time of year when your ideal clients are spending big, and — if you've got the right plan in place — primed and ready to spend with you.
As the season approaches, it's important to identify factors that could influence your audience's purchase decisions. Keep these trends in mind as you start this year's planning and promotional strategy.
1. Your audience has gone mobile
Here's a snapshot of what happened in the world of mobile this past year:
Smartphone usage in the U.S. increased by 50% (Kleiner Perkins)
The number of emails being opened on mobile increased by 330% (Litmus)
Tablet usage doubled in the U.S. (Pew Research Center)
Bottom Line: More people than ever are using mobile devices to make their purchase decisions. If a potential client can't easily find and consume the information they're looking for from their mobile device or if you send an email that doesn't look good on a smartphone or tablet, it could cost you business. Read more about Year End Promotions Your Customers And Clients Will Love