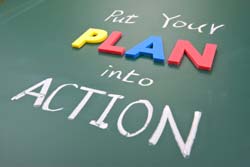 I am often asked, "Sydni, how do I figure out a marketing strategy that will be broad enough to allow me to address a wide array of issues and ideas from a variety of viewpoints? I need it to be narrow enough that I have a niche and people feel I will adequately answer their questions."
Let's first define what a strategy is. Simply put, a strategy is a plan of action designed to achieve a major or overall aim. You might also think of it as a checklist of steps that will lead you directly to achieving your goals.
For example, perhaps your goal is to attract 5 new clients within the next 60 days. You happen to be comfortable speaking in front of a group of people and really enjoy connecting with your audience that way. You also have specific solutions to share that can help your target market achieve a specific result or goal.
In that case your strategy might look like this:      Read more about How to Create an Effective Marketing Strategy That Makes You Money