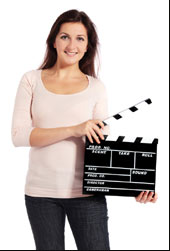 Looking for a simple, inexpensive and HIGHLY effective way to capture the attention of your next ideal client?
Do you struggle to convey the value of what you have to offer and wish you could "just show them (your target market) how it works?"
Then, you need to implement video into your marketing mix.
Understand, I'm NOT talking about:
You're having to get dolled up for the camera (though that's fine if want to)
Having to spend thousands of dollars on video equipment
Spending hours of your time trying to learn some fancy software
Video marketing can be as simple as 1-2-3!
But before I show you those steps, and in case you need more convincing as to why you should start using video to grow your business, check out these amazing statistics: [Read more...]