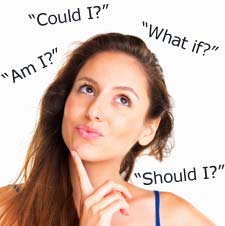 So often, it isn't a lack of knowledge that prevents service professionals from achieving their business and marketing goals.
Instead, a lack of focus and motivation are more often the culprits.  You may be a person who knows exactly what you need to be doing. You possess the knowledge, but not enough confidence in your ability to make it happen and succeed as an entrepreneur.
Throughout the many small business communities that I belong to (both online and offline), I often see a LOT of untapped potential.  I see service professionals who have the potential to command top dollar for their work, to create businesses that truly give them the flexible schedule they crave and work only with clients who respect them and value their contributions.  I see this in them, but many times, they just can't see it for themselves.
"WHY is that," you may ask? Read more about Tap Into Your Unstoppable Potential (Yes, you do have it!)