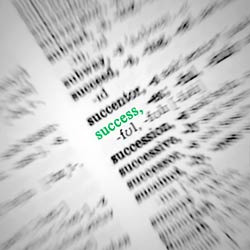 Entrepreneurs generally have a lot in common. We're passionate about our work. We care deeply about delivering high quality products and services to the people who need us. We have a "never-say-die" spirit.
Another thing we have in common is a bad habit of focusing on what went wrong. We often lose sight of the great things that went RIGHT, especially when it comes to reviewing our activity over a period of time.
When you focus on the negative, you can make growing your business much more difficult than it needs to be.
If you don't appreciate what's working, you can easily find yourself stuck in a never-ending cycle of chasing the next "thing" (an opportunity, a marketing strategy or idea that you think will make you more successful).
If you simply focus on what IS working and tweaking that – you'll get better, faster results with less effort.
As you reflect on your business, I encourage you to STOP and appreciate just how far you've come in the previous 12 months. Looking back on your growth helps you make plans for the future AND can encourage you to pat yourself on the back for a job well done. This simple process can inspire you and motivate you to dive into your next set of goals.
Here are a few tips for objectively analyzing your business: Read more about 3 Steps For Replicating Your Own Success