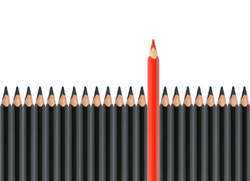 "Whenever you find yourself on the side of the majority, it is time to pause and reflect." ~ Mark Twain
What makes you different?
One thing that makes humans amazing is that there are not (and never have been) two people that are exactly alike. Try matching your fingerprints or dental impressions to anyone who has ever lived. It's impossible!
You are absolutely unique. Your business is absolutely unique.
So, why is it that your business looks similar to every other business in your industry?
Shouldn't you stand out from the crowd like a 7-foot tall 3rd grader? How would that help your business if you were that noticeable as a problem solver?
If you are making decisions in your business based on what "everyone else" is doing, it's time to add greater value to your audience (and increase your income) by being a bit different. Read more about How to Stop Cloning Unsuccessful Businesses