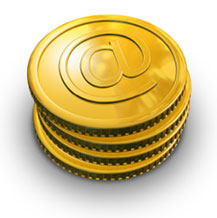 Have you ever played the board game Monopoly? As you may know, the objective of the game is to become the wealthiest player through buying renting and selling property. The moniker itself tells you the whole point of playing. How can the objective of Monopoly help you to build your business?
Just as you set goals for yourself when you play Monopoly, you likely have specific goals for your business that support your vision of success. One of the best ways to achieve your goals is to build an email list of prospective clients that you can market to again and again.
Building an email list is about creating a community of individuals who have requested to hear from you on regular basis. In a sense, you are seeking to monopolize your subscribers' attention on the topics of which you are an expert.
The goal with your marketing efforts should be to educate, create awareness about the services or products you sell, cultivate interest and eventually lead to a purchasing relationship.
How can you go about building your community of subscribers? By consistently sharing your expertise with the exact people who are looking for the solutions that you offer. When you share your solutions (online or offline), consumers will be drawn to your business and you can monopolize their attention.
Here are 3 ways to put this strategy into action: Read more about Build a Subscriber List That Begs to Hear From You