What is your company doing right now to seize market share, drive engagement and create "customers for life" in today's 3 hottest high-growth markets?
Are you:
Accessing a highly-responsive 29,000+ strong database of ideal customers?
Fully leveraging the latest cutting edge engagement tools to develop raving brand advocates?
Maximizing your marketing & outreach spend with mission-proven approaches custom-tailored for today's increasingly savvy consumer?
Positioning your brand as a value-add essential partner as opposed to an easily replaced commodity?
If you answered no to any of the questions above…we need to talk!
Why are these markets so critical? Here are some data points to consider:
The combined buying power of blacks, Asians and Native Americans is estimated to be $2.2 trillion in 2016, a 138 percent gain since 2000.
Women now own 40% of America's privately owned businesses and hold half its wealth—estimated to be $11 trillion of a total $22 trillion by 2020.
Most small businesses focus on increasing revenue (72%), but they also see great value in establishing new customer relationships (60%), and marketing and advertising (46%).
In the United States, the estimated cost of customers switching due to poor service is $1.6 trillion [to U.S. businesses]
Despite the tremendous buying power small minority-owned and women-owned businesses have, most companies struggle to truly connect with and engage these audiences.
The key to success is creating a Relationship Value Loop ™, where you're creating content that elicits a reaction from your target audience, and the feedback you receive allows you to create the exact solutions your customers are looking for, which creates a deep loyalty to your brand.
HOW WE HELP
We help our clients create a Relationship Value Loop ™ with their audience, which fosters ongoing opportunities for collaboration and revenue growth.
For example, we have helped:
Google to provide bridge the digital divide by providing hands-on education to minority-owned businesses in 9+ regions across the United States, reaching 16,000+ small business owners 
LinkedIn to educate 47,000+ small businesses around the world on how to get more clients using LinkedIn products
Yelp and Instagram to reach more than 21,000 small businesses around the world to dispel common myths about their products and decrease their churn rates
Whether you are a seasoned professional or are just getting started with content marketing we will leverage our propriety methodology to help you meet your goals.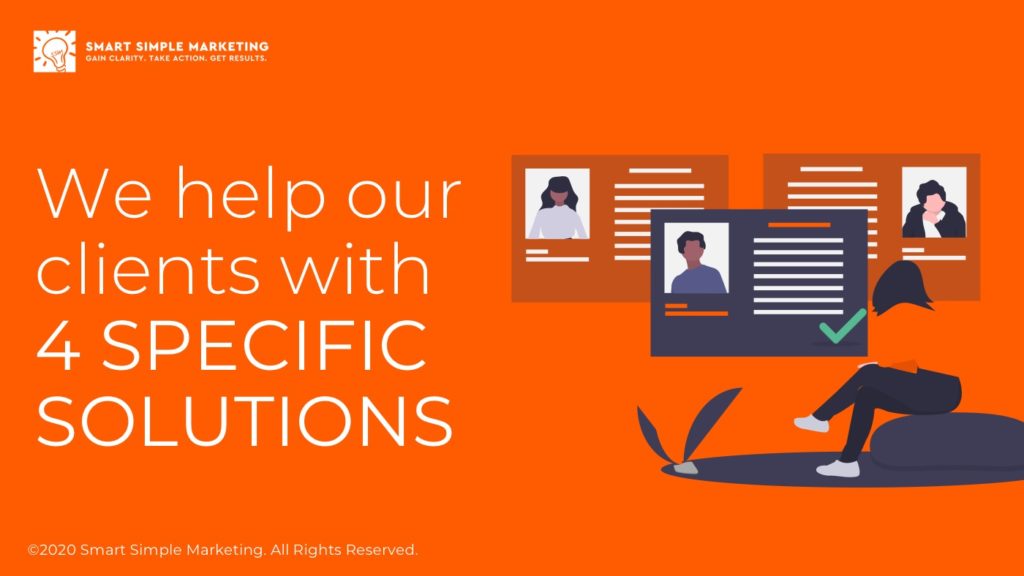 CALL US WHEN
You have identified small business owners, minority-owned businesses or women-owned businesses as a critical growth market
You have discovered you are bleeding market share to a competitor
You are launching a program, product or service to small businesses, women-owned businesses or minority-owned businesses
Your content marketing spend is not delivering the results you want
You realize you have lost the pulse of small business owners, minority-owned businesses or women-owned businesses
8 HIGH-IMPACT, QUICK TURNAROUND, REVENUE-BOOSTING SOLUTIONS WE DELIVER
Auditing an existing program to capture customer feedback and gather critical insights to increase customer engagement
Repurposing event content into articles, newsletters, ebooks, whitepapers, or training materials to maintain engagement with attendees
Launching a live or on-demand education-focused online training series highlighting the features of your products or services
Focus group sessions to uncover perceptions of your brand, products and services, as well as vital information about your demographic, your industry and your competition
Establish a foundation for ongoing communications with prospective customers by launching a turnkey email marketing system powered by compelling, engaging content
Customized training on content marketing, email marketing, customer acquisition, customer value optimization, and community-building best practices
Sourcing and interviewing satisfied customers to create success stories and case studies, infusing your marketing materials with a new level of authenticity and relevancy
Significantly improve your email open and click-through rates by segmenting existing customer lists and launching automated email sequences per segment, specific to your customer's interests to re-engage prospects and past clients.