We've added a whole new set of keywords to our vocabularies since COVID-19 changed the way we live, work, and play…
Worldwide, people are now overly familiar with:
Social distancing

coronavirus

self-quarantining

 and… 

tone-deafness
Just to name a few. The last phrase — tone-deafness, tone-deaf marketing, or tone-deaf messaging — is one that we have been talking about a lot, as our clients ask us how to communicate with their customers, clients, prospects, and audiences during this global health crisis.
Tone-deaf marketing is not a new concept. We've talked for many years about brands and companies being tone-deaf when it comes to multicultural marketing messages.     
What is Tone-Deaf Marketing?
Tone-deaf marketing refers to messaging that is insensitive to what's going on in the world. The March 23 Wall Street Journal published a few examples of brand messages that two weeks ago would have been clever; however, today they're just wrong. We've got some examples at the end of this post. 
My March 19th LinkedIn message addressed this very topic: "In the last 24 hours I received an email from a resort inviting me to book a tropical vacation, an email offering $50 off $200 of cell phone accessories, and a luggage company selling me a weekender suitcase," I said. 
Got 3 minutes? Watch my message about empathetic messaging.
Obviously, I'm not interested in any of those offers, given the state of the world and the coronavirus. To be fair, it was likely that those messages were scheduled far in advance of the pandemic. Since then, we've seen companies pivoting their messaging to be more sensitive, helpful, and empathetic. 
We're not saying you have to stop selling your goods and services. In fact, the right marketing messaging is so important — now more than ever. Businesses have to continue to earn revenues to keep their workforces employed and to support their families and communities. We're simply saying: Now is not the time for tone-deaf marketing messages.
How to Create Empathetic Marketing Messages During a Crisis
Review all of your brand messaging to make sure it acknowledges what's going on in the world and over the next several months. Ask yourself and your teams, is this message selling something, or is it helping our audience, clients, and customers solve their problems? If your message is all about you and your brand, how can you pivot over the next few months to customer-centric and empathetic messaging? Ask your clients and customers: What worries you today, what do you need, and how can we fill those needs?
Many of our clients have asked us for advice, and we've held a number of virtual strategy sessions to help them manage their messages during this crisis. Here are some of our best tips for managing your brand's message, no matter how small or big your organization is:
Do business as if the world is watching

. In every message you create, every email you send, and every social media message you post, assume it will be viewed by millions of people around the world. No matter how small or large your organization is, imagine all eyes are on you. 

See your customers as people first

. Remember that everyone you meet throughout the day has their own struggles, challenges, and joys. They have families, coworkers, business partners, and employees who have their own stories. See them first as people, then as customers. Empathize first, then be helpful. 

Follow the 80/20 rule of marketing messaging

. Eighty percent of your messaging should be 

unbranded 

helpful, informative, and educational content for your audience. Twenty percent should be reserved to inform your audience about your brand, what you stand for, why you exist, how you can help them, and what you do.

Listen to your customers and your employees

. What are your customers and workers worried most about? What do they need? How can you help? 

It's OK to keep doing business

. Let your customers and followers know that you're still open for business. Let them know the changes you've made to help your employees — shorter hours, limited access, or curbside service for example — while still serving the community. A sense of normalcy and "business as usual" offers comfort during critical times.  

Use your social channels

. Share messages and updates through your social media channels. Share helpful resources and inspiring stories. 

Don't set and forget your marketing messages

. There are some wonderful tools that let you schedule blog posts, social media posts, and email marketing messages weeks in advance. The problem with these tools is when tragedy strikes, these messages that were created during a whole different time are now at risk for being inappropriate. Don't "set and forget" your content; review scheduled posts to ensure they're on-topic and timely.
Examples of Tone-Deaf Coronavirus Marketing
We promised you a few examples of brands that got it wrong by setting and forgetting their messaging before the coronavirus health crisis hit over a week ago. We've got three examples, along with what the companies did to correct their mistakes. 
Sandals Resorts offered $1,000 discounts for their "no worry" vacations. 
The good news: Today they've got a message on their homepage from their chairman acknowledging the global health crisis and actions the company has taken to protect travelers and their employees.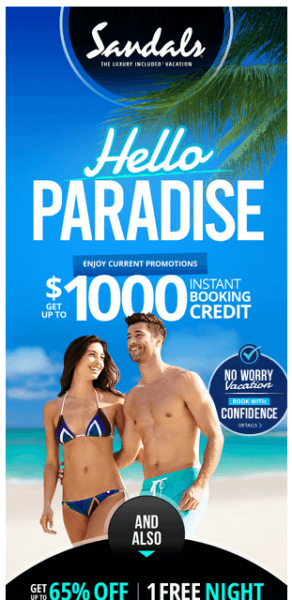 2. KFC might forever have to ditch its "finger-licking good" campaign after this coronavirus outbreak. The slogan, which the company has used since the middle of the 20th century, now seems just icky. They've reportedly canceled advertisements with the messaging after consumers complained in the UK in March 2020 during the coronavirus outbreak. The good news: KFC is offering free delivery and contactless pickups for fried chicken lovers.
Howdy, Folks! Starting March 14 – April 26, we'll be offering FREE DELIVERY on https://t.co/h4LE81OR5v, making it easier for everyone to enjoy my world famous fried chicken from home. Or order ahead for pick up so you can skip that line. Terms apply at https://t.co/krmxGqiPpq pic.twitter.com/6FGbnF5lNa

— KFC (@kfc) March 13, 2020
3. Spirit Airlines emails customers on March 12, 2020, with the subject, "Never a better time to fly." Oops. 

We apologize for the email that was sent earlier today. It was written prior to the current situation and unfortunately sent. We are closely monitoring COVID-19 and taking precautions to keep our Guests & Team Members safe. pic.twitter.com/6SGdfghAe9

— Spirit Airlines (@SpiritAirlines) March 12, 2020
The good news: Spirit acknowledged the oversight (they'd scheduled the post in advance of the COVID-19 emergency), and they have set up emergency response channels for their customers. 
Be Pitch-Perfect in Your Marketing Messages
Let me know if you'd like to schedule a 15-minute Zoom chat to discuss how you can pivot your brand messaging. Our clients have the goal of helping small businesses to thrive, especially during times of crisis. They call on our nimble team when they want to deepen engagement with diverse-owned small businesses. You can contact me at 510.601.0470.
Let us know how we can help — we are in this together, working from home, staying connected, and serving the world community.