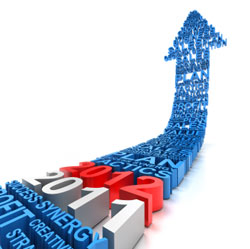 Entrepreneurs generally have a lot in common. We're passionate about our work. We care deeply about delivering high quality products and services to the people who need us. We have a "never-say-die" spirit.
Another thing we have in common is a bad habit of focusing on what went wrong. We often lose sight of the great things that went RIGHT, especially when it comes to doing a year end review. When you focus on the negative, you can make growing your business much more difficult than it needs to be.
If you don't appreciate what's working, you can easily find yourself stuck in a never ending cycle of chasing the next "thing" (an opportunity, a marketing strategy or idea that you think will make you more successful). If you simply focus on what IS working and tweaking that – you'll get better, faster results with less effort.
As you reflect on your business, I encourage you to STOP and appreciate just how far you've come in the previous 12 months. Looking back on your growth helps you make plans for the future AND can encourage you to pat yourself on the back for a job well done. This simple process can inspire you and motivate you to dive into your next set of goals.
Here are a few tips for objectively analyzing your business:
Review your 2011 goals – If you're like most service professionals, you created a list of goals you wanted to accomplish. This could have been at the beginning of the year or any time during the last twelve months. Take a look at your list and check off any goals that you've completed. Put them on a new list titled "My 2011 Accomplishments." (I've actually created a worksheet for you. Click here to download your copy – no opt-in required!) With each goal jot down exactly which steps you took to get there and how you feel about the results you created.
Take note of any other major accomplishments you made during the year – Sometimes you end up making strides or accomplishing things that you didn't plan for. Well done! Just because you didn't plan for them doesn't make them less important. Write down any of these achievements on your "My 2011 Accomplishments" sheet. By noting what you did to accomplish them, and how the opportunity came about, you can see how you can replicate the results.
Don't beat yourself up or wallow in regret – Even the best laid plans sometimes get put aside or readjusted. Don't use this exercise as an opportunity to chastise yourself over missed opportunities or plans that didn't go through. Take note of the plans that didn't work out, because you may want to work on them again in the coming year. But let your criticism end there. This part of the process is about reflecting on what went right! Forgive yourself for any mistakes in the past and take steps  to avoid the same mistakes in the future.
Share your successes – If you're in a mastermind group or part of a power partnership, these are perfect people to tell about your successes. Sharing how far you've come in the last year can help reinforce that you've completed a job well done. Encourage others in your group to do the same. If you don't have a team of partners that you work with or a partner that you're accountable to, now may be the perfect time to find one. In fact, this is something I can help you with. If you'd like to connect with a group of supportive, like-minded entrepreneurs who are actively growing their business, I have just the solution for you. Email me for details.
Reviewing your progress over the last year can give you a boost of confidence and help you plan for even greater success in the year to come. Whatever your version of a successful business looks like, it's yours for the taking. It's simply a matter of getting clear about what you want, mapping out a plan to achieve your goals and consistently working that plan.
If you'd like help with those three steps, I invite you to join me for my upcoming "Create Your Money Map" series that starts December 6th. Visit www.CreateYourMoneyMap.com for details.
What have you accomplished in your business this year? Inspire me and the Smart Simple Marketing community by sharing your achievements in the comments below and enjoy us celebrating your success!
YOUR "TAKE ACTION" PLAN FOR THIS WEEK:
Review your 2011 goals, check off what you completed and reflect on far you've come in the last year.
Write down all of your accomplishments, planned or not planned, on your "My 2011 Accomplishments" sheet.
Focus on the positive. This exercise is about appreciating how far you've come and not about regretting the past.
Share your accomplishments! If you don't have a power partner or a mastermind group that you work with, it's time to get a group of supportive people around you. Email me for details.