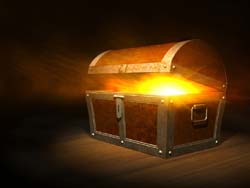 Every (and I do mean EVERY) business – including yours – has the potential to be immediately more profitable. Unfortunately, many times we are unable to see the opportunities in front of us because we buried in the minutia of our daily task list.
So how do you dig out the hidden treasure in your business? How do you tap into those "well… duh!" opportunities that are right in front of you?
Here are a few areas of business to investigate:
| | |
| --- | --- |
| 1. | What prospective clients didn't convert to paid clients? – It's easy to get emotional and take it personally when a lead doesn't turn into a client. The fact is though, that perhaps the timing for the lead just wasn't right. Or they weren't ready to commit. Or they didn't have the money right then. The point is that their reason for saying no may have had ZERO to do with you. Pick up the phone and call these folks. Send them a handwritten card. Take a personal interest and find out what they need, what they are struggling with. Reaching out to check in and see how they're doing could very well open a dialogue that will get you a new client in the door. |
| | |
| --- | --- |
| 2. | What connections did you make while networking that you haven't followed up on? – How often have you gone to a networking event, made a great connection, had an awesome conversation and then forgot to follow up on the lead? Don't worry, you don't have to give me an exact answer, but what you should do is follow up with those folks. Might they have forgotten about you? Yes. Might the opportunity have passed? Yes. But you won't know if you don't try. There's a lot to be said for owning the fact that you dropped the ball and taking action to make it right. The opportunity you had may very well still be available to you… just waiting for you to follow through. |
| | |
| --- | --- |
| 3. | Who can you partner with to fill in a product/service gap they have? – One of the easiest ways to quickly add more revenue to your bottom line is to partner with another product or service provider who has offerings complementary to your own. Get creative here! A professional organizer could partner with a moving company or a relocation consultant. A PR company could partner with a branding expert. A virtual assistant could partner with a CPA. The opportunities are endless! Who do you already have a relationship with that knows you, likes you and trusts you? Reach out and schedule a date to chat and explore what opportunities you can create together to collaborate. |
| | |
| --- | --- |
| 4. | What does your ideal client want from you (vs. what you are currently selling)? – When is the last time you asked your target market what they want? Doing this regularly and making decisions accordingly keeps you from falling into the trap of selling what you want vs. what your audience wants. Do you sell one-off services when your clients really want ongoing support? Would your clients love a DIY kit they can work through at their own pace instead of 1:1 support from you? Ask (what your clients want) and you shall receive (the profits from selling them the solutions they are already looking for). |
| | |
| --- | --- |
| 5. | What are you working on that isn't generating revenue? (So you can stop putting time and energy into it!) – This is perhaps the easiest way to free up your time and start generating more money in your business. What tasks, projects, and ideas are you working on right now that are NOT generating revenue? How long have you been at this endeavor? If the numbers (and lack of results) are speaking to you loud and clear, accept the fact that it wasn't meant to be. Instead, channel your time, energy and resources into what IS working and continue to improve. Not only will your business be more successful, you'll be less stressed out and frustrated, which will improve the overall quality of your work. |
As you can see, the opportunities to create the exact business you want are yours for the taking. You just have to know where and how to look. If you "can't see the forest for the trees," I invite you to join me for my upcoming "Focus & Freedom" Business Transformation Retreat in San Francisco.
During this one-day intimate experience, I'll be working with just 6 results-focused entrepreneurs to uncover specific profit opportunities in their business. Each client will walk out the door with a clear mind, a refreshed spirit and a step-by-step plan to create a more profitable business. Join us!
Your Action Plan For This Week:
| | |
| --- | --- |
| 1. | Create a list of prospective clients that you did not close in the past. Contact them to see if they might need your help now. |
| | |
| --- | --- |
| 2. | Contact people in your network who offer complementary services to your target market. Make arrangement to collaborate to better serve your market. |
| | |
| --- | --- |
| 3. | Focus the majority of your energy on income generating activities. |